Interview Amelia Hunter from Lullaai
From sleepless nights to all-nighters. That is what Lullaai, the start-up invited to our blog, promises. A project that combines science and technology to improve the sleep and quality of life of babies and their families.

One of its founders, Amelia Hunter, explains what this groundbreaking project consists of, which has improved the rest and the nights of more than 500 families
Amelia Hunter has been helping families with sleep problems for many years. She specialised in infant sleep at the Sleep Consultant Certification Program in Florida (USA), has training in mental health from the Children's Sleep Institute and the Department of Psychology at Toronto Children's Hospital (Canada) and is a paediatric assistant at ISED.
She has worked with families around the world to establish healthy sleep habits and improve their quality of life.
How and when did Lullaai come about? What made you combine sleep and technology?
I met Nacho Valledor many years ago because of an issue related to his baby's sleep. As I am a paediatric assistant, we started talking about health and we loved the idea of linking it to technology. We were looking to monitor what happens while babies sleep and then Daniel Tizón, our CTO, came into the picture.  We started to make progress on the project and finally developed automatic tracking, a set of melodies and sounds that help the baby to relax and reports that are generated when the baby wakes up.
What needs of families do you respond to?
The first thing is to educate families about their baby's needs and their sleep. It is a fundamental pillar in the development of children, who need to get enough rest. It is a very complex issue because there are many factors, both internal and external, that influence it. Establishing schedules, creating routines and knowing in depth how each individual child behaves when sleeping are very important aspects that parents must take into account.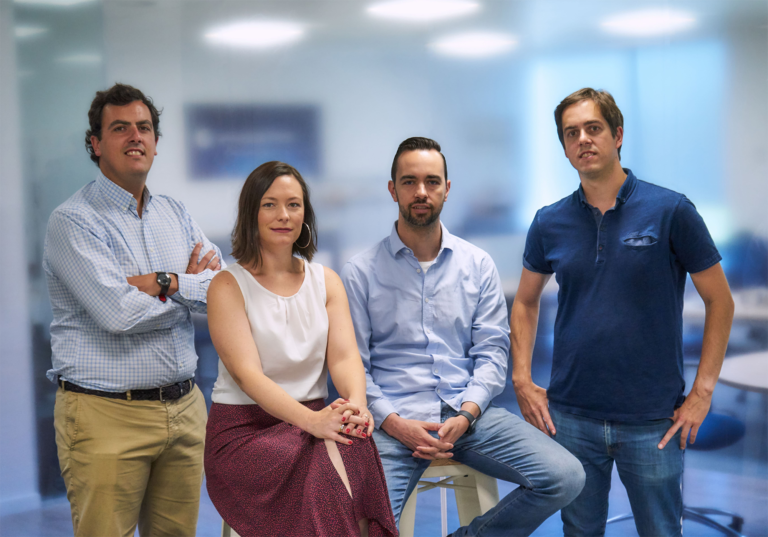 Tell us a bit about the team, they are very specific profiles.
We are four founders, Nacho and Daniel Valledor, Daniel Tizón and myself. Each of us is specialised in a specific area such as management, marketing, big data or sleep. We also have a medical team made up of paediatricians and psychologists who are in charge of assisting families and children.
 What is harder, entrepreneurship or being a mother?
Motherhood 😄 I am lucky to work in something I am passionate about and to participate in a project that is growing with me. Being a parent is very complicated and, as time goes by, I realise that it is not me who educates my children, they teach me many things. Finding the balance between being a mother and being an educator is fundamental for me.
What advice would you give to parents who decide to become entrepreneurs?
To look for a project they are passionate about, so that work is a pleasure, not an effort. Besides, if you find your niche, everything flows. I have succeeded, I have found my project and, although there are difficulties, the fact of doing what I like and my optimistic character help me to overcome them more easily.
Define Ride&Go Baby in just one sentence
Anything that makes life easier is welcome and, in particular, these wheels seem to me to be a great invention.