Interview with María from Baby Care and Care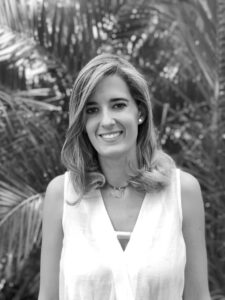 We introduce you to María, an enthusiast of the childhood stage and educator by vocation who has created the blog  atencionycuidadosdelbebe.com
María has tested our wheels and has shared her experience on her blog, don't miss it!
Ride and go baby, ruedas para la hamaca babybjorn
How and when did https://atencionycuidadosdelbebe.com/ come about?
ACB came about 9 years ago when I felt the need to have a portal for the public with the courses I offered to families. I started with children's massage and gestural communication.
It was a blog that was rarely updated, where I posted the courses that I was doing.
Once I got into that dynamic, the blog started to become more and more active, I started writing articles for magazines and sharing them too.
Over time, I ended up with a website that was already in good condition, with several sections and which specialised in what I liked best.
At that time I didn't think I would get where I am today: proud of the whole journey and of the families who have passed through me.
At the moment I have courses for families and professionals, advice on childcare products, an assessment and early care service, the sale of personalised products that I make myself (lollipops, key rings and silicone teethers and personalised pictures) and, in addition, I continue to write for magazines.
What role does training play in your life? Do you consider yourself to be a person with concerns?
Training has a fundamental role, I would not have got where I am without thousands of hours of training.
In this field, it seems fundamental to me to always be up to date, which is why I usually study every day and continue to train in new subjects and update and recycle subjects that I already know. I am a very restless person, according to my husband I have "titulitis aguditis", although not because of the title but because I spend my days training and researching.
What do you like best, being an educator or an entrepreneur?
Pfff difficult question… Some time ago I would have answered you, without a doubt, as an educator. Today, both are the same. I love educating and training, but at the same time I love being an entrepreneur and being able to do things in the best way I think.
Early attention, positive discipline..., do you think today's parents are up to date with all the trends in the field of education?
I think families are looking for more information every day. Nowadays, there are many options for online training and this has helped many families who, due to a lack of time, did not seek training before and now do so.
It is also true that there is an enormous range of training on offer, the important thing is that families are more or less clear about the type of education or philosophy of life that they want in order to be able to train in this field.
There are several communities that support families and I think that is an added bonus, they need to feel supported.
If you had to give a single recommendation to parents regarding the education of their children, what would it be?
Complicated, the truth is that there is no one type that can serve us all, which is why at ACB I work in a personalised way, adapting to each family.
Perhaps I would ask them how they see their children when they grow up, so that we can see how they should do things so that these children can achieve their maximum potential.
I think that also common sense and putting yourself in the child's place helps a lot. Getting certified in Positive Discipline changed my life, the way I see children and interact with them.
How would you describe Ride&Go Baby in one sentence?
"Your baby always close" whether in your arms, carried or in the bouncer, the baby always close to you.